The passing of time can be very positive for believers, as each closing year draws us one step closer to eternal glory with Christ! And while there are many aspects of the Christian life that will continue on into the next life in heaven (worship, discipleship, fellowship – just to name a few), the fact remains that the day our lives end on earth will be the day that our opportunities to share the Gospel also end – forever.
One principle we have personally learned at TCC for bringing more biblical balance to life and ministry is the concept of what has been called "living in day-tight compartments". In Matthew 6:34, Jesus warns: "…do not be anxious about tomorrow, for tomorrow will be anxious for itself. Sufficient for the day is its own trouble."
Are you in the habit of making New Years resolutions? If so, there are 3 simple ways that we challenge you to make every day count in your life and witness for 2014:
1) Live every day in light of eternity
In Colossians 3:1-2, Paul writes: "If then you have been raised with Christ, seek the things that are above, where Christ is, seated at the right hand of God. Set your minds on things that are above, not on things that are on earth."
Contrary to cultural cliches, to be "heavenly minded" IS of "earthly good"! Not only does living every day in light of eternity give us the unshakable hope of glory, but it will also move us out of small, selfish thinking into the biggest picture possible when we have fears of sharing our faith!
So, as strangers of this world on exile toward our heavenly home, let's purpose in our hearts and minds to set our affections not on this life but on the life to come…every day!
2) Pray and read the Word every day
As He commissioned Joshua as successor of Moses, the Lord commanded: "This Book of the Law shall not depart from your mouth, but you shall meditate on it day and night, so that you may be careful to do according to all that is written in it. For then you will make your way prosperous, and then you will have good success. Have I not commanded you? Be strong and courageous. Do not be frightened, and do not be dismayed, for the LORD your God is with you wherever you go." (Joshua 1:8-9).
Though the context of this story is Israel finally entering their new Land of Promise, at least one biblical principle is clear: consistently get the Word of God "in you" and obey it to overcome all fear!
God has commanded us to boldly, truthfully, and graciously preach His Gospel to every creature. So let's commit to praying and reading His Word every day as we "go" every day!
Click here for a list of more structured Bible-reading programs for the New Year
3) Be an everyday evangelist
Have you read about D.L. Moody's inspiring commitment to live a life of everyday evangelism? Here is a quote from Moody's best friend, R.A. Torrey, about the of commitment of the famous preacher: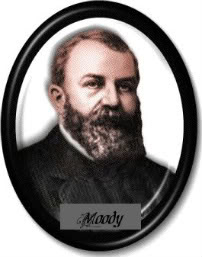 "…God used D.L. Moody…because of his consuming passion for the salvation of the lost. Mr. Moody made the resolution, shortly after he himself was saved, that he would never let twenty-four hours pass over his head without speaking to at least one person about his soul. His was a very busy life, and sometimes he would forget his resolution until the last hour, and sometimes he would get out of bed, dress, and go out and talk to someone about his soul in order that he might not let one day pass without having definitely told at least one of his fellow-mortals about his need and the Savior who could meet it."
While very few Christ-followers will ever reach the preaching prominence of D.L. Moody, every follower of Christ can make a commitment to evangelize for the Lord every day.
Some will verbally share Christ every day. Some will pass a tract every day. Some will send an evangelistic email every day. Regardless, we challenge you to commit to living a life of everyday evangelism as the Lord leads within your own personal life and witness!